In celebration of the amazing talents of low-budget filmmakers, we are proud to announce this year's award-winning films. Audience members voted for their favorite films in five categories: comedy, drama, documentary, experimental, and animation. Our jury selected a favorite film from each category as well. And the winners are...
Audience Favorite and Jury Award for Drama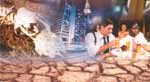 Drought (Soluços e Soluções) - U.S. Premiere
(Edú Felistoque & Nereu Cerdeira, S. Paulo, Brazil, 2000, 90 min.)
Synopsis: Hiccup at a bar table... The idea for solving the dryness problem in northeast Brazil comes up. Cara, a marketeer, an obstinate idealist leaves everything behind in the big city to face an adventure through the arid northeast. He finds a new reality, where the people are exploited for the "problem industry" advantage. Having advertising and the press as his only weapons, Cara calls the people's attention and the landlord's rage in his crusade for solutions.
Budget: US$98000
Contact: zyd.com.br
Audience Favorite Comedy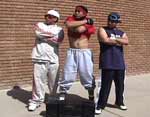 S.T.D. (Space Time Destroyers)
(Roman Cortez & Chito Arellano, Pomona, CA, 2001, 11 min.)
Synopsis: Hip-hoppin', body-rockin', ain't no stoppin' three old school b-boys getting their groove on. Until an evil space overlord gets infected by their universal beat. Will he claim the beat for his own demise or will the b-boys defend their territory?
Budget: US$20
Contact: Roman Cortez
Jury Award for Comedy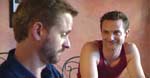 Coffee Date
(Stewart Wade, Los Angeles, CA, 2000, 17 min.)
Synopsis: Todd (straight) is dismayed when the suggested meeting place for his first blind date turns out to be a gay coffeehouse. He argues with Kelly (gay) over the only available table. They reluctantly agree to share it. Gradually they discover they have a lot in common--in fact, too much! They realize they are waiting for each other, victims of a practical joke perpetrated by Todd's brother.
Budget: US$20,000
Contact: coffeedate.topcities.com
Audience Favorite and Jury Award for Documentary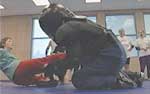 Forever Fourteen
(Kelly St. John, Berkeley, CA, 2000, 24 min.)
Synopsis: A documentary film that tells the story of a young girl's rape and murder and the crime's impact on her loved ones. It takes a unique approach, exploring the emotions of rape survivors while focusing on the mystery of a murder.
Budget: US$2500
Contact: Kelly St. John
Audience Favorite Animation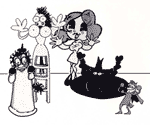 Horse Play
(Lena Podesta, Los Angeles, CA, 2000, 2 min.)
Synopsis: A little girl's drawings come to life to misbehave and take over her space. Part whimsy gone wrong, part examination of physical and emotional space and part self-portrait.
Budget: US$1000
Contact: Lena Podesta
Jury Award for Animation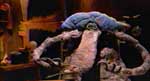 Lint People
(Helder King Sun, Los Angeles, CA, 2000, 8 min.)
Synopsis: Those fibers and fabrics that get unwoven from your sweaters in the spin cycle actually become teeny lint people - or at least that's the nub of this adorable romp about a lint family's domestic woes. When the father develops an appetite for his own young, the mother must stop her spouse from feasting on the fluffy brood.
Budget: US$5000
Contact: Helder Sun
Audience Favorite Experimental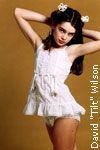 Hepcat's Holiday
(David Wilson, Columbia, Mo, 1995, 3 min.)
Synopsis: pinball and drag racing . . . rock 'n' roll!
David Wilson plays drums live to accompany the film.
Budget: US$24
Contact: David Wilson
Jury Award for Experimental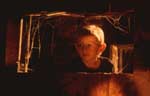 Subterranean Passage
(Michael Crochetiere, Regina, Saskatchewan, Canada, 1999, 32 min.)
Synopsis: "Once I had the power to disappear, to sink inside the dragon's dreams, to touch the dragon's sandy skin, as if it were my own." Four children create alternative worlds to escape the cruelty of their domestic existence in this beautiful experimental film.
Budget: US$49,000
Contact: Michael Crochetiere
Click here for a complete listing of all the films featured at Bargain Basement Film Festival.