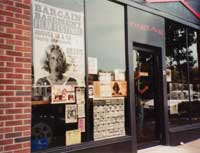 The festival will take place at Ragtag Cinema in Columbia, Missouri. Ragtag is at 23 N. 10th St. See the maps below.

Getting to Columbia

By Air
Columbia Regional Airport is 15 miles south of town. Flights into this airport are very expensive, so we would recommend that if you do fly, avoid this airport. Columbia is two hours by car from Kansas City or St. Louis. Each city has a major international airport. To get to Columbia from either airport, we recommend reserving a shuttle. The following companies offer shuttle service between these airports and Columbia: Tiger Air Express (1-800-333-3026) and MO-X (1-877-669-4826). There are other services if you want to shop around. If you need any help, please contact us.

By Car
From the western half of the U.S., drive through Kansas City and take I-70 east to Columbia.
From the east, drive through St. Louis and take I-70 west to Columbia.
From the south, you will want US 63, which goes through Columbia.
Travellers from the north should either take US 63 into Columbia or take US 54 to Kingdom City, where you will get on I-70 and head west to Columbia.
Once you get to Columbia, follow the maps below to Ragtag.

By Bus
Greyhound offers regular services to Columbia that stop on Business Loop 70, northwest of downtown. They have special offers for advance ticket purchase.