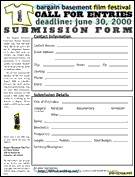 Send submissions to:
Bargain Basement
P.O. Box 7261
Columbia, MO 65205-7261

Bargain Basement Fest was founded on the belief that low-budget filmmaking should not go unnoticed. In Hollywood, movies are considered low budget when they cost under a million to make. We believe that true film art can be created on any budget. Film should not be an art form for the rich. We understand that your movie may be shot on a cheap VHS camera and that you may have edited on a couple old VCRs. People should create film art no matter how they are limited. Bargain Basement was created to celebrate that kind of originality. Please submit your film, no matter how much it cost to make. We want the world to see your work.
There is no entry fee. Include a letter explaining your submission. We need to know your name(s), contact information, length of film/video, format of original (i.e. 35mm, Super8, DV, VHS, etc.), budget, and a brief summary. Be sure to give us a standard VHS tape for reviewing purposes. We will contact you about a high quality flim or video format for screening at the event. Include a S.A.S.E. if you want your tape returned. The deadline for submissions was July 30 2000. Please send your tape earlier if possible. If you have questions, email us.
--> | Festival Info | <--